Be Completely Relaxed During Your Visit
Studies show that 30% of the population avoids the dentist due to fear. Sedation dentistry provides a safe and comfortable experience for them to get the care they need and want.
Imagine being completely relaxed during your visit with us while painlessly having years of work done in just one or two visits. Our goal is to alleviate any anxiety you may have about your treatment.
The protocols utilized in sedation dentistry can be customized to the your anxiety level and medical history allowing you an incredibly comfortable, relaxing and safe experience. Your visit to our office will be one of total comfort.
If you would like to schedule a complementary consultation
click here
.
Dr. Cameron is the only dentist in Johnson City to have achieved a Fellowship in the Dental Organization for Conscious Sedation.
Oral Sedation Dentistry
Step out from under the shadow of fear and into the calm of sedation dentistry. There are safe and time-tested options available to ensure that you have a positive and painless dental experience. Your apprehension and hypersensitivity to pain melt away, yet you remain awake and in control... Read Article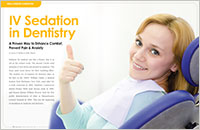 IV Sedation in Dentistry
Does dental treatment make you anxious? If so, you're not alone: as much as 50% of the population has apprehension about dental treatment. An estimated 15% are so fearful, they avoid dental treatment entirely. But it doesn't have to be that way. Learn how IV sedation allows for an anxiety-free experience of dental care... Read Article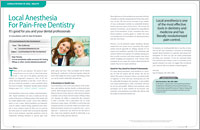 Local Anesthesia for Pain-Free Dentistry
Local anesthesia is one of the most effective tools in dentistry and medicine. It is safe, effective and has totally revolutionized pain control. Without local anesthesia, some dental procedures would be quite stressful for all involved. It's good for you and for your dental professionals... Read Article
We value your time at Sophisticated Smiles; we have taken great strides to make it convenient for you to contact us.