A Lifetime of Good Dental Health
It's always a pleasure to visit your lovely office and be greeted by the smiling faces. We are proud to be counted among your dental patient family and enthusiastically recommend you to our friends. 
— Robert and Thelma Harmon
We actively aid our patients in obtaining a lifetime of good dental health. We thoroughly examine your teeth, gums and bone structure, emphasize good oral hygiene, and offer these preventive care services:
Regular Checkups & Exams
From the moment you arrive at our Johnson City practice you will be treated with professional and comforting care. During your initial exam you will be screened for oral cancer, given diagnostic x-rays for examination, gum disease evaluation and an update on your current dental health. Dr. Angela R. Cameron encourages our patients to visit on a regular basis in order to prevent disease before it happens.
Cleanings
Our certified dental hygienists are the best. The individual care you will receive includes removal of plaque and tarter from your teeth and gum line and polish them to remove common stains.
Sealants
We offer sealants for both our adult and pediatric patients. A sealant is a tooth colored or clear plastic material that adheres to your natural tooth enamel. The benefits of sealing common pits and grooves against tooth decay can be an effective and affordable means to head off future decay problems.
Periodontics
Healthy gums make healthy teeth. At Sophisticated Smiles we continually search for signs of early gum disease so it can be treated non-surgically prior to becoming a major problem. Our staff is highly trained in a soft tissue management program and we are continually pursuing continued education in this field to better serve our Johnson City and Tri-Cities residents with premier care and service.
Daily Oral Hygiene
By taking just a few minutes each day to brush and floss the right way, you can help avoid the discomfort and expense of dental treatment down the road. In this article we share some simple secrets about how easy it is to maintain good dental hygiene, and keep that smile radiant for life... Read Article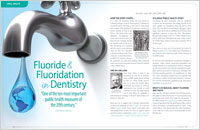 Fluoride and Fluoridation in Dentistry
The Center for Disease Control says that water fluoridation is, "One of the ten most important public health measures of the 20th century." Extensive systematic reviews of the evidence conclusively show that water fluoridation and fluoride toothpastes both substantially reduce dental decay. Learn why through the amazing fluoride story... Read Article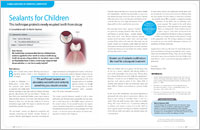 Sealants for Children
The tiny grooves in your child's back teeth are ideal places for cavities to form. But you can take a proactive role in preventing this with dental sealants. These are protective plastic resin coatings placed in these tiny pits and fissures of teeth, actually sealing them from attack. It's a wonderful method of decay prevention that every parent should consider... Read Article
What is Tooth Decay? – And How to Prevent It!
Tooth Decay is an infection, and many people don't realize that it is preventable. This article is the first in a series about tooth decay, perhaps the number one reason children and adults lose teeth during their lifetime. Explore the causes of tooth decay, its prevention and the relationship to bacteria, sugars and acids... Read Article
We value your time at Sophisticated Smiles; we have taken great strides to make it convenient for you to contact us.